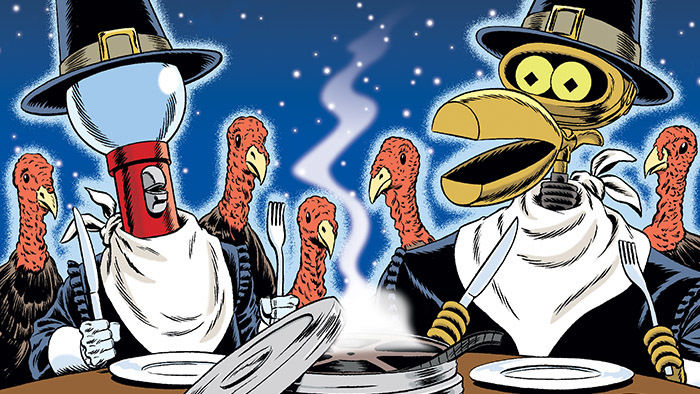 It's Okay that CINSOMNIACS get a little MSTIE eyed sometimes! CINEMA INSOMNIA'S MR. LOBO and MYSTERY SCIENCE THEATER 3000 creator JOEL HODGSON have been bumping into each other a lot recently at MONSTER BASH, RETRO-CON, and BLOBFEST–and it's always a good time full of friendly fun conversation and commiserating about misunderstood movies.
This latest collection of episodes from the cult comedy series MST3K serves up four turkeys–JUNGLE GODDESS(1948), THE PAINTED HILLS(1951), SQUIRM(1976), and
THE SCREAMING SKULL(1958) — as Joel, Mike and their robot relations Tom Servo and Crow carve and serve. This feast will  drum up tasty memories of Turkey Day Marathons past on COMEDY CENTRAL back in the 90's–A tradition at the Lobo house to be sure.
Bonus Features include, New Turkey Day Intros By JOEL HODGSON, INSIDE THE TURKEY DAY MARATHON(2014), An Interview with one of the stars of SQUIRM, GUMBY AND CLOKEY(2014), 4 Exclusive Mini-Posters By Artist Steve Vance, BUMPER TO BUMPER: TURKEY DAY THROUGH THE YEARS(2014) and of special interest to CINEMA INSOMNIA fans, THIS FILM MAY KILL YOU: MAKING OF THE SCREAMING SKULL(2014)  by filmmaker Daniel Griffith featuring interviews with MR. LOBO. The movie host returns for another MST3K doc directed by Daniel Griffith–after the very well done CITIZEN WOOD: MAKING THE BRIDE, UNMAKING THE LEGEND(2010) in MST3K Vol. XIX.
It's settled, then! Pick up MST3K: Volume XXXI, The Turkey Day Collection in a neat-o Collector's Edition Tin! CINSOMNIACS AND MSTIES UNITE!